Band prepares for winter concert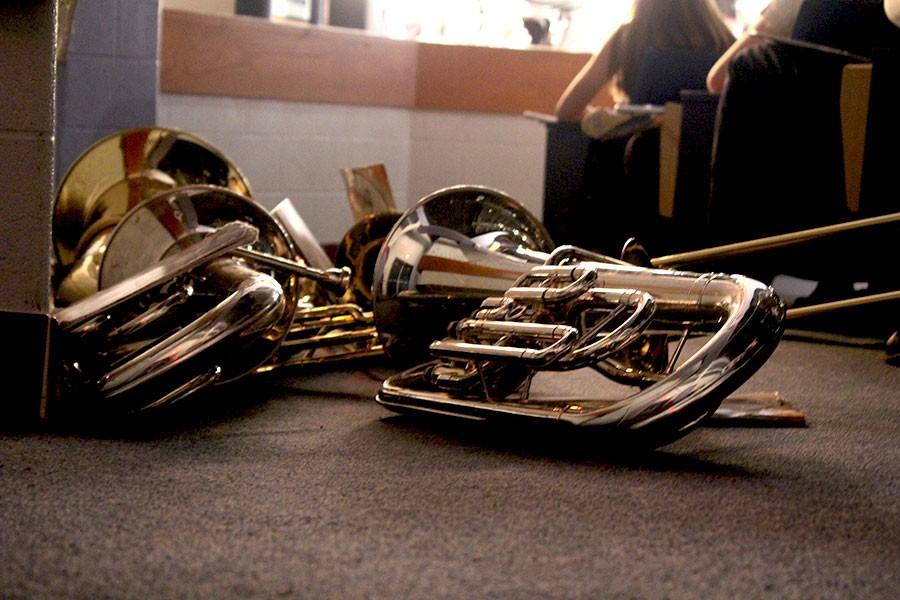 As the leaves begin to fall and the temperatures drop, everyone is getting ready for winter break and the holidays. However, Band Director Nathan Griffin and the band are also getting ready for their winter concert.
The concert, which takes place in the FHC Auditorium, is split between Dec. 9 and Dec. 10, with each separate part starting at 7 p.m. The first concert will feature the concert band, symphonic band, and the wind ensemble, and the jazz band and jazz ensemble will play at the second one.
All of the different sections of band are hard at work preparing for these concerts. According to Mr. Griffin, they have spent a great deal of time on these specific concerts.
"We have been preparing either all semester or all quarter depending on the group," Mr. Griffin said. "We rehearse each day during the school day, focusing on fundamentals to then apply to the pieces we have selected to play."
Assistant Band Director Andrew Messerli backs up his colleague's point, saying the students work outside out of class in order to prepare.
"Students do a lot to prepare for the concerts, from the basics of in-class rehearsal, to practicing at home, and even taking private lessons," Mr. Messerli said.
Over the past few months, the band has been practicing for the songs they will be playing at the concert, and Mr. Griffin believes they have made a tremendous amount of progress.
"[Their progress] has been good. The groups are right where they should be, and [the concerts] should be two great nights of music at FHC," Mr. Griffin said.
According to Mr. Messerli, the students feel confident about their upcoming concerts due to all of the practice they have had this semester.
"I think they feel good about the concert. They have been given challenging music and have been working hard to put it all together," Mr. Messerli said.
The band directors themselves are very confident that their pupils will perform well. Mr. Griffin believes that this is due to the hard work that the students put into the equally challenging music.
"As always, [they will do] very well," Mr. Griffin said. "These students work hard for these performances and play a high level of music."
Now, all the students can do is further prepare themselves for when they will fill the night with the sound of their music.