Students rally around hospitalized teacher
Math teacher Roxanne Fetsch's battle with leukemia has galvanized students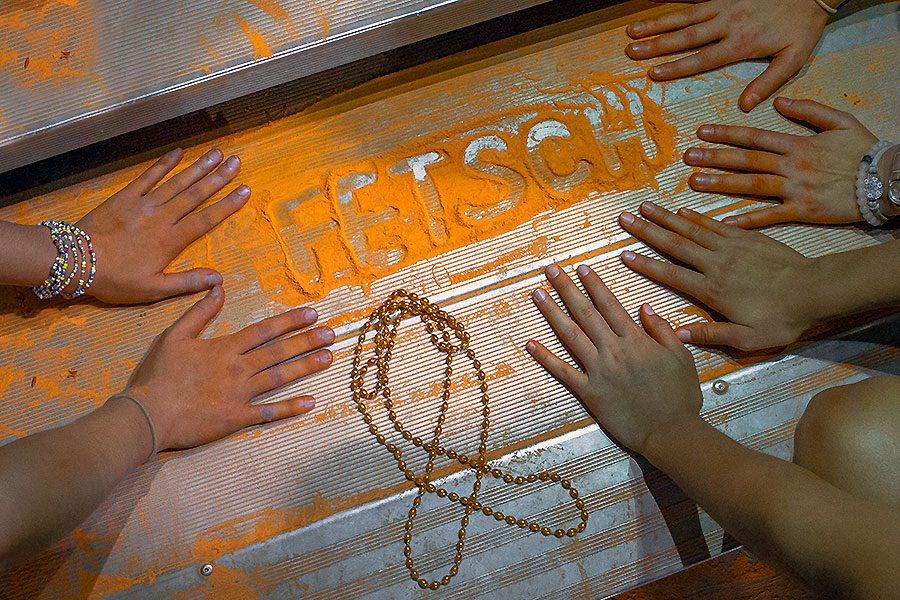 Aug. 9, school is in session. With it starting off to its normal start, students are in a hurry to see their friends and teachers are preparing for the long list of names they have to memorize. Little did they know the news that would send our school into a movement that may never be forgotten.
Less than a week after the first day, on Aug. 14, students of math teacher Roxanne Fetsch, were informed that their teacher has been hospitalized and recently diagnosed with Acute Lymphoblastic Leukemia, a rare form of a blood cancer most prevalent in children. The word spread like a wildfire and Mrs. Fetsch was quickly not battling this war with cancer alone.
Nick Cummings, a former geometry student and silver shield recipient of Mrs. Fetsch didn't take the news very well at first.
"I immediately started shaking, and then it was kinda unbelievable and I started crying," Cummings explained.
Students and teachers began to "Fight with Fetsch" and show their support through fundraisers and other events. The varsity Sensations began selling orange ribbons to pin to clothes, backpacks and other material. They also began selling "Fetsch's Fighters" t-shirts to raise awareness for leukemia and all proceeds from the shirts and ribbons were sent directly to help aid leukemia research worldwide.
Varsity soccer team captain, Joey Mueller, has developed a relationship with Mrs. Fetsch in a very different way other than behind a desk.
"For my whole life she has lived across the street from me and she babysat me my whole life until my siblings were old enough to watch me … she is very upbeat and peppy all the time and works hard at everything she does," Mueller said.
Because of the personal relationship Mr. Mueller took quick initiative and created orange warm-up jersey for him and his soccer team.
"For me personally, I thought it would give us something to play for," Mueller said.
Now for students who did not know Mrs. Fetsch as well, such as a leader of the student section and Central Outreach representative, Tucker Maupin, was also touched by the sad news and felt the eagerness to help.
"I bought a t-shirt and helped organize the 'Orange Out' theme for our Friday night football game to show support … it felt like the game and everything was all for her … we chanted 'Fight with Fetsch' and the orange powder we threw up in the air represented fighting for her," Maupin said.
Exactly one month later on Friday, Sep. 14, the same night of the "orange out" game, the war ended and Mrs. Fetsch and her "Fighters" came out victors as she was claimed 100 percent cancer free.
Once Mr. Cummings was informed of the victory, he believed it was more than just luck.
"Everyone was praying for her and it really shows you what the power of God is doing and that He is looking out for her every day…God's gonna take care of her…I learned the power of family we have here at Howell Central..we look out for each other and we care for each other," Cummings said.
Throughout this long and moving process, the school has raised thousands of dollars for leukemia research and donated so much to Mrs. Fetsch and her family. We have grown pretty fond of orange and seemed to have nearly adopted it as a new school color. Howell Central no longer only bleeds blue and silver, but orange as well.