DECA creates sense of family, opportunity to compete
School's biggest club allows students to get involved, travel, compete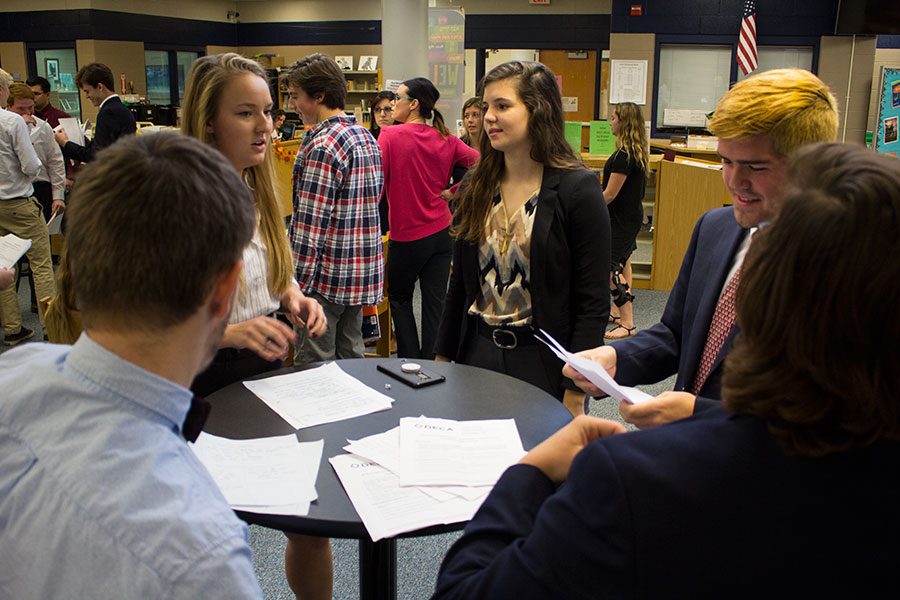 In the past few years, DECA has grown both in size and popularity. Recently they held their annual officer election and with every new set of officers comes a new fresh set of ideas and plans to make the club better.
To be in DECA, one simply has to be enrolled in a marketing class and pay the club fee. This year in DECA, seniors London Rodgers and James Bamberger were among those elected by peers as officers. The officers are responsible for planning events and service projects. Sponsors,  such as business teacher Jill Schaffer, just help with the more administrative side of things.
For Rodgers, joining DECA seemed like common sense. Business was something that her family had always been involved in and for her, it wasn't any different.   
"I started last year when I was a junior," Rodgers said. "Everyone in my family is in business so it kinda just seemed natural, I'm naturally a talker and I'm very persuasive so marketing and sales seemed natural to me."
For Bamberger, a first-year DECA member, the aspect of fun and school involvement played a larger role in his decision to be involved in DECA.
"I was talking to Austin McKinley and he told me to join because it's super fun and I might as well because I'm in marketing," Bamberger said. "Also, I felt I needed to be more involved in school and activities."
For many students, the fact that colleges love when DECA is on your college application is a huge factor. For others, the appeal of competing for awards and recognition is enough to join. The awards you can win can translate into scholarships, which are extremely helpful with college.
Rodgers has had the unique opportunity to compete and win her first year of competition, traveling as far as Anaheim, California to compete in internationals.
"In districts last year, I placed second with my partner Riley Gerringer, and then at state we placed but we didn't place to make it to internationals, but then someone dropped out so we got to go," Rodgers said. "And then at internationals, we competed and obviously we didn't qualify for finals because that's insane, but those are my three from last year."
For Rodgers, her family background in business, her leadership skills, and an opportunity to make a difference for a child in Uganda had inspired her campaign for our chapter's DECA Vice President.
"When I was in internationals, there's was this table and there were these bracelets called YUDA bands. These bracelets are made in Guatemala from natural materials, and they are sold through our chapter," Rodgers said. "So we send back the money after we sell them, and all of the proceeds go to the student we chose to sponsor. We sponsor a whole year of private education."
Service projects like this are the things that set DECA apart. The opportunity to give of yourself to help others.
A memorable experience for Schaffer was when the chapter was able to actually buy a family a house and decorate and donate furniture to fill the house.
" Several years ago we were put in touch with this homeless family that was living at the care center in O'Fallon and we helped them raise money for their first and last months rent and then we surprised them and on their moving day," Schaffer said. "We met them there and we had collected everything from furniture, toys, clothes, and they showed up there and they had nothing and we showed up there with truckloads of stuff for them.  That experience really showed the students how big of an impact they can have through community service."
In addition to community service projects, DECA also has fundraisers throughout the year to help pay for the students' field trips and competitions. In previous years, they've put on the infamous DECA Dodgeball tournament and throughout the year they sell cookies every day. And this year, they might be adding more fundraisers to draw a bigger crowd.
In a club that is almost completely student-run, it's vital that the officers are the right fit for the club and not just the most popular or the funniest.
"The number one thing is someone who is truly compassionate or empathetic, someone who wants to reach out and make a difference," Schafer said.
The officers are responsible for almost everything that happens in DECA from the planning of social outreach events to running the DECA meeting so it's very important for the officers to have a personality that is non-stop and outgoing. Also, it's very important for the officers to be experienced so that they can lead the club most effectively.
For Rodgers, she felt that she was very qualified and a person who could most effectively do the job of vice president.
"I'm extremely committed, I'm the most enthusiastic person like ever," Rodgers said.  "I was international qualifier, and I think it's my positive personality and great ideas."
Unfortunately, not everyone who runs for an officer position always gets one. But Rodgers feels that the best team was elected by peers.
"Usually, it's a popularity contest. Who has the funniest video, who is the most well liked, and I think this year that didn't happen," Rodgers said. "This year everyone who deserved to get their position got their position."
Unfortunately, the deadline to join DECA has passed for this school year. But if you're a sophomore or junior, make sure you've enrolled in a marketing class for next year and join the best club in school. DECA.