Inspirational Adeyemi
Acclaimed author Tomi Adeyemi visits with message about following dreams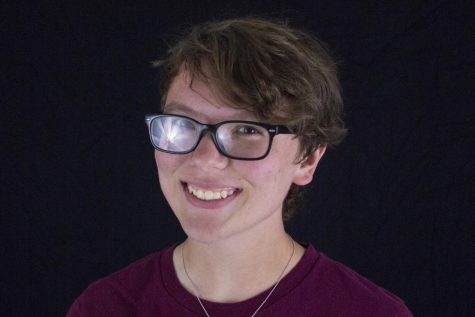 More stories from Skylar Laird
"IF YOU WANT IT YOU CAN DO IT," large red words read against a black screen behind 24-year-old author Tomi Adeyemi, who smiles broadly as she speaks into a microphone, encouraging the library full of students watching her to pursue their dreams, regardless of how difficult it may be. Her bright gold shoes, meant to be reminiscent of the design on the hardcover of her book, reflect her bright demeanor as she tells the story of how she became a newly-successful writer.
No more than a few weeks ago, the name Tomi Adeyemi was entirely unknown to the general population, but that changed last Tuesday with the release of her first book, "Children of Blood and Bone," a young adult fantasy novel that has been sweeping the nation, landing one of the biggest book deals in young adult history, a movie deal with Fox 2000, and, most recently, a No. 1 spot on New York Times bestseller list. This sudden notoriety has landed Adeyemi a place in the public eye, allowing her moments in the spotlight like her appearance on "Good Morning America" last Tuesday, March 5, but her appearance in the Learning Commons on March 15 was planned before this surge of fame by co-owner of Main Street Books, Emily Hall, and librarian Mrs. Head.
"That lady right there," Mrs. Head said, gesturing towards Hall. "She works with us very well, she'll give us a call when she has someone she thinks we'd be interested in and says, 'Would this work with your schedule?' and we were just lucky enough that it totally did… when this one came up, we were like, 'Sure.' Of course, I hadn't heard of her. After we said yes is when her book totally blew up, so we were pretty lucky … we were just right place, right time."
Senior Abram Cutshall, who had the opportunity to introduce Adeyemi to the crowd gathered to see her speak, was glad Mrs. Head and Hall managed to get her to Central, as he otherwise probably would not have had the ability to meet this author whose novel he enjoyed so much due to her sudden success.
"If we hadn't booked [Adeyemi] before everything blew up, who knows if we would ever get to meet her, so it's super incredible that she's here now and it's really exciting to get to see someone at the beginning of the journey [because] we get to kind of experience it with her," he remarked.  
Though her book is the reason for her fame, Adeyemi hardly mentioned it while she spoke, focusing instead on everything that lead up to the writing of it, from years spent doubting herself to a job she was miserable in to finally taking the chance to pursue the dream she never thought she could do.
"There's something about when you're really little and people are like, 'What do you want to be, believe in yourself, you can be anything,' and then I feel like around 14, 15, 16, people are like, 'Well, you can't do anything,'" she explained to the audience. "So for me, I always wanted to write, but I never felt like writing was a possibility."
This idea led Adeyemi to shy away from her love of writing despite her prolonged passion for it while she attended Harvard University to earn an honors degree in English literature. After graduating, she landed a desk job in Hollywood where she was stable but unhappy. Every night, on the phone with her boyfriend, she would tell him how horrible this job was, and every night, he'd say the same thing: "Quit your job." After a few months, she requested more constructive advice, but he simply told her he was serious: he believed she should quit her job and become a writer. This encouragement and support eventually earned him a spot in the dedication of Adeyemi's book; a book that would never have been written had she not come to the conclusion that quitting was the best option for her.
"I was miserable," she recalled. "I was so miserable. And I realized no matter what I did, I was gonna have to work, so I might as well try working for what I want to do to not be miserable, and I'm like, 'okay, that means you're gonna have to believe this dream that you have is possible.'"
Taking this leap was a word of advice Adeyemi stressed heavily to her teenage audience, emphasizing the importance of believing in themselves. Though her presentation was more broad, Adeyemi also had more specific advice for students with passions more similar to her own; her website, tomiadeyemi.com, is acclaimed as one of the best resources for aspiring authors, offering a community of writers to give students the tools they need to write their own bestsellers.
"[My advice for writers] is actually really simple," she said. "It's just write, which I know sounds annoying, but the more you write, the better you get at it… I wrote so much fanfiction growing up — not even growing up, I still do it — and I thought, 'Wow, you're wasting your time, why don't you do something, you know, original,' but I was practicing, so it doesn't matter if it's original, doesn't matter if it's not."
Her other word of wisdom for young writers: read. Reading, according to Adeyemi, is the best way to keep a new novel relevant and marketable to the public.
"One of the biggest reasons my first book didn't go anywhere is because it was written for Harry Potter fans, but we're way past Harry Potter," she said. "People still love it, but people don't want new Harry Potter, they want new books, and in ten years, people want something else, so you can take what you want, but you have to be reading to keep up with it."
Though "Children of Blood and Bone" bears less similarity to the infamous "Harry Potter" series by J.K. Rowling, Adeyemi's novel has caused critics to call her "the new J.K. Rowling," a fact that piqued Cutshall's interest in the book in the first place.
"When I first heard this book was coming out, it was like, 'Oh yeah, that sounds like a really good book,' but literally two days after I heard about the book, [Adeyemi] was on 'Good Morning America' and they were talking about [how this is] one of the biggest book deals that's ever been signed and [her being] the next J.K. Rowling… I love Harry Potter, so I was like, 'Oh my god, I have to read this book,'" Cutshall said.
Even Mrs. Head, the librarian known for having never read Harry Potter because of her distaste for the fantasy genre, informed Adeyemi that she was enjoying the novel so far — an impressive feat for this librarian, giving hope to those who may also be skeptical of a novel described in such Harry Potter-esque terms.
"I'm actually just a couple chapters in," Mrs. Head said. "I am not a fantasy reader, so I was like, 'Okay, [Adeyemi]'s coming, I'm gonna get into this,' so I actually started last night, and two chapters and I was falling asleep but I was like, 'Dang, I am really liking this book!' so I told her, 'feather in your cap that I might actually finish a fantasy book.'"
Adeyemi's presentation, however, held significance regardless of her book and whether or not audience members had read it yet. Senior Talia Thambyrajah has not yet begun reading it, but bought a copy for the author to sign because she was so impressed with Adeyemi's fun personality.
"[Her presentation] was amazing," Thambyrajah said. "It was really good. She's a really sweet person… I don't know what I was expecting, but she's just really outgoing and really personable."
Thambyrajah especially enjoyed how Adeyemi tied in the stories of Cardi B and Oprah, discussing the struggles both women faced in their early lives and how these problems did not hold them back from becoming famous in their industries. Adeyemi's focus not only on herself but on other relevant role models was a key point of the presentation for Mrs. Head as well.
"[I] loved her presentation," Mrs. Head said. "I think the kids were very engaged and hanging on every word. She had a great message about how you can be what you want to be, you just have to put your mind to it. She didn't just talk about her, she used other examples. It was just very interesting and real."
Hall agreed that this presentation was well worth listening to, citing the importance of bringing in authors like Adeyemi to prove to the students that joining a profession such as writing is, in fact, possible.
"[The presentation] was amazing. She's incredible. It's hard to believe she's 24, she has all this life experience already. She's just fabulous," Hall said. "Obviously to me, it's a pleasure just to bring her to Francis Howell Central … It's just always nice to be able to bring in an author and put her in front of students and show them that yes, you can do the things that you wanna do. If I'd had an author talk to me when I was in high school, I'd probably be a writer right now."
Adeyemi also believes talking to teenagers about pursuing their passions is extremely important, though she believes so because they are the next generation who will soon be stepping up to become leaders, a theme that has been seen more commonly recently in current events, specifically with the student-led protests taking place to advocate for gun control. This is especially fitting, considering "Children of Blood and Bone" has been considered a Black Lives Matter movement-inspired fantasy novel, tying real-world events that have caused recent unrest into its fictional storyline.
"[Giving teenagers this message is important] because you guys are gonna save us," she said. "Adults have ruined the world. It's not like, 'Children run the future,' it's, 'we won't have a future without you guys,' so that's why."
To watch Tomi Adeyemi on Good Morning America, visit http://abcnews.go.com/GMA/Culture/video/tomi-adeyemi-opens-blockbuster-book-series-live-gma-53569985
To buy "Children of Blood and Bone," visit http://www.tomiadeyemi.com/books
Leave a Comment
Your donation will support the student journalists of Francis Howell Central High School. Your contribution will allow us to purchase equipment and cover our annual website hosting costs. FHCToday.com and our subsequent publications are dedicated to the students by the students. We hope you consider donating to allow us to continue our mission of a connected and well-informed student body.