Accommodations and Inclusion
District works hard to provide inclusion for students in alternative learning settings
As the rest of the track team begins to warm up for its afternoon practice, junior Jason Kuhn works with his brother, freshman Jeremy Kuhn, to ensure that he understands each exercise. As the team begins to practice, Jason walks alongside Jeremy to offer his support and make sure he is on his best behavior. All of this is done to guarantee that Jeremy has the best possible experience in track that he possibly can.
Growing up, Jason always aimed to be a supportive figure in his brother's life. Knowing that his brother has a disability and may not be able to stand up for himself, Jason wanted to provide a defensive voice for him and a relationship where Jeremy would always have someone by his side, ready to back him up when needed.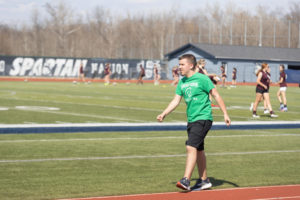 "It was really always just like me wanting to look out for him because I'm a firm believer in that if someone cannot stick up for themselves physically or mentally, they should always have someone that can," Jason said. "So that's always the role that I've tried to play for him. Try and make sure he has a friend and whenever he needs help with something at home, or just in general, I always try my best to be there."
Even though Jeremy has a disability, his family has always tried to make certain that he has as normal a life as possible. Thus, a few months ago, the Kuhn brothers' mother brought up the idea of Jeremy joining track as a way to get more involved in the school community and the family agreed with her.
"We all just want him to have that normal high school experience. We don't want him to be limited to anything," Jason explained. "So we just wanted something that he could do. And since I wrestle, I knew Coach Breuer and I've known him for a long time. So we knew that he would be fine with Jeremy doing track so we just did that."
Jason wanted to make sure his brother adjusted well and understood everything during practices, so he decided to join track as well. During practices, Jason sticks by his brother's side to assist him with warm ups and drills.
"I just help him with warm-ups and stuff like that," Jason said. "And since I can't run, I kind of just like to stay behind him and I walk aways behind them, just to make sure he's doing everything right all the time."
Additionally, the track program has tried its best to accommodate Jeremy and make sure he feels as included as possible in the program.
"[Coach] Breuer lets me take [Jeremy] to the side and just do individual drills with him. Once everyone else has gone, he runs alongside Jeremy," Jason said.
The inclusion of students with disabilities in day-to-day activities such as sports practices is the most important accommodation that the school can make to support those with disabilities. Paraprofessional and FHC alum Lindsey Palmer recalls how happy the students she works with get whenever other students simply make an effort to acknowledge and include them. One situation she says especially makes the students' days is when student- athletes take the time to come over and play sports with them.
"I've seen a couple athletes be able to come down with our kids and just play basketball with them if they really enjoy basketball," Palmer said. "And like that makes that kid's day because [they're] obsessed with basketball and having someone that's on the basketball team or super athletic play with [them] kind of makes [them] feel good."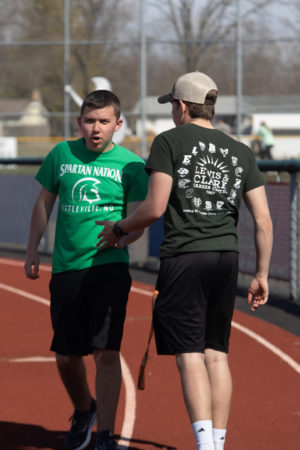 Additionally, Palmer commented on how allowing students to participate in pep assemblies is beneficial to them in the sense that it makes them feel appreciated by their peers.
"When we have the pep sub assemblies… Like when our kids used to go out and dance and stuff or [when] Jeremy [Kuhn] said you know, 'Welcome FHC!' during the assembly and everyone went crazy, that makes his day, you know?" Palmer described. "Or when they dance and everyone stands up. That gives me the chills, so I'm for sure imagining what they feel. They're probably way overstimulated, but they super love it because everyone's accepting of them. It's those moments [that mean a lot to them]."
However, issues like noise levels do prove to require other accommodations being made to make sure that these students can participate in certain activities without their comfort levels being compromised. Alternative Learning teacher, Dr. Michelle Burkemper, described how the department supplies students with headphones to help cancel out some of the noise and make specific experiences more enjoyable for them.
"Noises are a big distraction for them," Dr. Burkemper expressed. "Some of them get scared with loud noises. Typically, we alert them to any upcoming drills because of their dislike for the noise of the crowd… Many of them wear headphones when at assemblies… just to kind of distort the noise."
All in all, the school district has put a lot of effort into making sure students with disabilities have the support and education they need to thrive in life. However, the main area where there's room for improvement is accommodation among peers. Most students tend to avoid their classmates who have disabilities at all cost, leaving them out of conversations and other various ventures. This leads to students with disabilities becoming almost alienated from the rest of the student body. According to Dr. Burkemper, the best way to solve this issue is simply for students to reach out and talk to their classmates with disabilities.
"They want to be talked to and have friends just as much as everybody else," Dr. Burkemper said. "If you see somebody, include them, speak to them, talk to them. Our essential skills kids typically sit together, but other students in our Alternative Learning Department don't all sit together. Some of them are sitting alone, so just including them and speaking to them asking about their life [makes a difference]. They're just like you and I. They may have communication issues, but they're able to get their point across in other ways."
Jason also gives examples of what students can do to make their peers with disabilities feel more included.
"Look out for them, really," Jason expressed. "Like if you see them in the hallway, say hi to them, give them a fist bump. You know, just start a conversation with them like you would anybody else."
View Comments (1)
Your donation will support the student journalists of Francis Howell Central High School. Your contribution will allow us to purchase equipment and cover our annual website hosting costs. FHCToday.com and our subsequent publications are dedicated to the students by the students. We hope you consider donating to allow us to continue our mission of a connected and well-informed student body.