Clean-up Crew
How schools have been dealing with the custodial shortage and how students can be hired.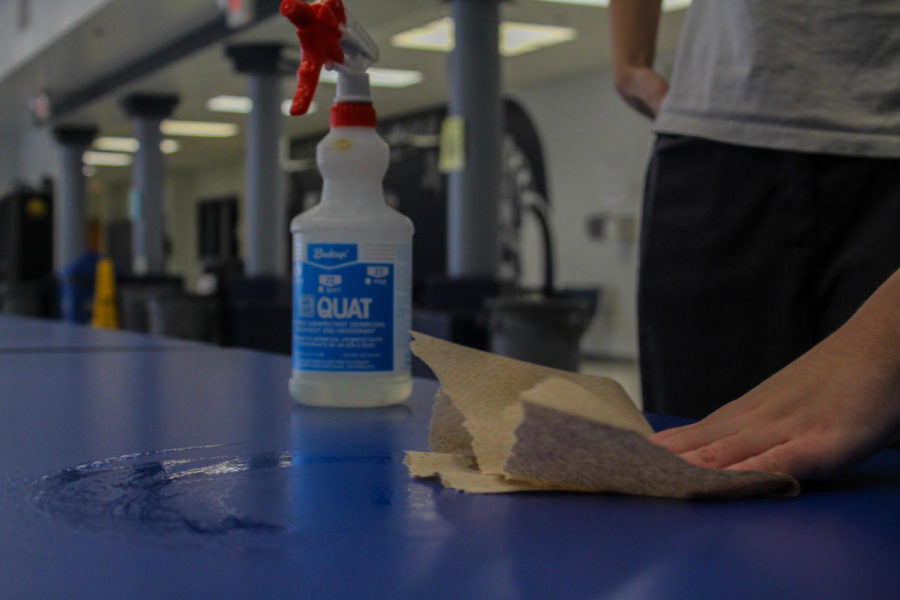 Splat! The sound of a mop hitting the floor sounds throughout the empty corridors of the nearby Hollenbeck Middle School. Senior Joey Siegler goes from sweeping, to mopping, to wiping off tables and boards. They walk through the barren halls that were once bustling with activity, akin to the ones that they themself had walked through just a few hours ago. With the lack of custodians, Siegler and the other custodians have to work even harder to make sure the school is clean and safe for students to return to the next day. 
Siegler is one of the few students who has signed up to work as a student custodian, a job opportunity that had become available due to the shortage of school staff.
Since there has been a staff shortage in schools, the insufficient number of custodians has caused concern for higher-ups in the district. Despite the hard work of those still working at the school, the massive size of the building and the lack of custodians means it's close to impossible for them to clean each room and hall before their shift is over. The custodial manager of Francis Howell, Denis Nasufovic, believes the shortage is due to the competitive labor market, which not only affects the custodians but many other jobs. 
"The labor shortage is not only felt among custodial staff but is present all over and has also affected other industries," Mr. Nasufovic said. "Everyone is struggling to hire employees."
This is also backed up by the director of human resources, Mark Delaney, who thinks this issue is affecting employers everywhere in a competitive market with low unemployment rates. 
"I think this is much larger than a school staff issue and custodial issue.  Employers all over the United States are facing workforce shortages," Delaney said. "The unemployment rate currently is extremely low and employers are all competing for the same employees in a very tight labor market."
Delaney elaborates on the decision to hire students as custodians, speaking on the fact that it's a great opportunity for students and easily accessible and more accommodating than other jobs may be.
"This gives students that may want to stay right after school or walk across campus to another building that may otherwise not have transportation to and from another job," Delaney said. " It gives our students an opportunity to work in a safe and convenient environment while learning what it's like to balance school and a part-time job. In addition, we can be extremely flexible with their schedule. If they have a big test coming up or need time for school work we can easily adjust their work hours."
Siegler, who signed up for the program last year, says it doesn't interfere with extracurricular activities or schoolwork, which makes it a good fit for students who have a heavy workload, but still want a part-time job. 
"I get off about 6:30. So I still have time to get home and do homework," Siegler said. "I don't work very late at all." 
Nasufovic says there was recently a raise that went into effect on November 1, 2022, of which they hope will help them compete in the intense competition in the job market.
"The board of education has recently approved a pay increase for all support staff district-wide which puts us in a good position to be competitive with other school districts and the private sector," Nasufovic says. 
Siegler is one of the few students to take the job, with only nine students currently hired or going through the process to get hired in the district.
"I signed up about at the very beginning of the summer last year. I worked over the summer time there and I've been working there up until now," Siegler said. "I found out about it through a friend of mine who actually started out first, their mom was a lead custodian at one of the schools, and I thought it was a pretty good opportunity and that the pay was pretty good."
Because of the lack of staff members, custodians are one of the jobs that desperately need to be filled. Those interested in becoming a student custodian should be 17 or older, and they are guaranteed 12 hours a week. The pay is $14.25. Check out the flyer, here, or check out the applitrack here to sign up.
Leave a Comment
Your donation will support the student journalists of Francis Howell Central High School. Your contribution will allow us to purchase equipment and cover our annual website hosting costs. FHCToday.com and our subsequent publications are dedicated to the students by the students. We hope you consider donating to allow us to continue our mission of a connected and well-informed student body.