State Sentiments
On February 25th, at 7:28pm, there wasn't much going on here. However, at Mizzou Arena, in Columbia, Aidan Hernandez's left arm was raised, announcing he was a state wrestling champion at 165 lbs, to the cheering crowd in front of him. Hernandez's season culminated in a first place finish after beginning his senior season with a hand injury from football. Knowing this would be a setback, he kept a positive mindset to find success. 
"Once I was back, I knew it'd be fun because I've worked hard and then I mean, accomplishments speak for themselves because I've put the work in, [and got first place]," Hernandez said.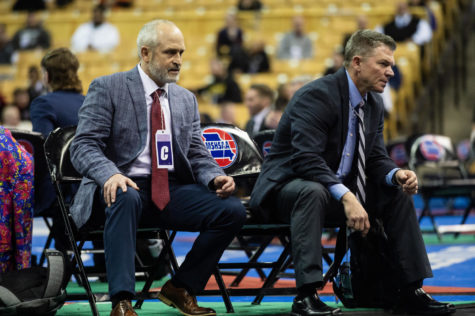 Similarly, senior Peyton Shepard kept a confident outlook to advance past his semifinal match after being down 4-1 to start out. After coming back to win 10-6, Shepard went on to become a state champion as well at 126 lbs. 
"It was a good feeling for [Aidan and I] to win [a state championship] in the same year because I've been wrestling with him all my life, and it was Coach Cross' last year as a head coach, so I'm happy that we [got to] go out [on a] good year, [taking] second as a team," Shepard said. 
To contribute to their second place finish at state, freshman Chase Gray, took home fifth place at 106 lbs. Although it wasn't the turnout he was hoping for, Gray persevered and won against two opponents he was apprehensive to face. 
"I think one of the big [challenges] I had is; there was this kid that I used to wrestle for a really long time. He used to beat the crap out of me, and I beat him five times this year. He didn't come close to beating me once," Gray said. "I think another big win I had was my first one at State. I was really intimidated by the kid I had to wrestle but I went out there and I ended up beating him too."
In all, the boys wrestling team had nine qualifiers and five medallists, including Thomas Stuhlman taking home fourth place at 157 lbs and Noah Keen with a fifth place finish at 132 lbs. The boys wrestling team tied their best-ever finish, coming away with the state runner-up trophy for Class 4. 
In a likewise fashion, the girls wrestling team had its best-ever finish, coming in at 11th in Class 2. Their ranking materialized from the help of 10 state qualifiers; the most for any team in Missouri, and two medalists. Sophomore Kailey Benson became the first state finalist in school history, but ultimately ended up walking off the mat with second place. A similar heartbreak would be that of senior Sophia Miller's fifth place finish. Nearly pioneering the program of girls wrestling at Central, she reached 100 wins during her state run and was excited to see growth all over the program.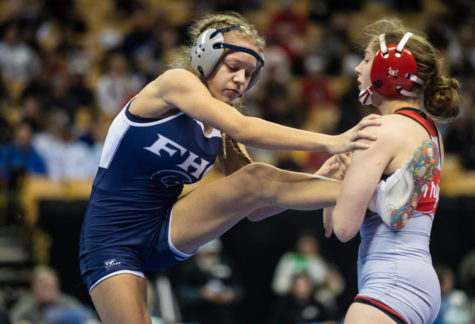 "We went from four girls to ten [girls going to state] which is awesome and I know that we didn't come back with a trophy, but all [the] girls won points for our team at state and I didn't think that [this] many girls would ever go [to state] in my four years of wrestling [at] FHC," Miller said. 
With the finalization of Miller's career, she encourages all girls to try out for the wrestling team, so that they can find a home and solidarity within as she did. After all, #girlswrestlingitsathing.
"Be there for your girls. You might have [had] a bad day, but you have everybody around you that loves you and is here for you to make you better." Miller said. "You also have amazing coaches that you can look to for help –for anything– if it's not understanding a move [or] if you need to talk about something."
There was plenty of history made this season between both teams, but without a doubt the programs will be looking to top their most recent finishes. With such influential seniors and a total of nine seniors, there will be leadership opportunities open in both programs, and now it's up to the underclassmen to take a hold of their teams and earn their right to have an arm lifted. 
"Returners [will] have to step into leadership roles and take it upon themselves; they can't just expect success to continue, they have to still work for it," Hernandez said. 
Leave a Comment
Your donation will support the student journalists of Francis Howell Central High School. Your contribution will allow us to purchase equipment and cover our annual website hosting costs. FHCToday.com and our subsequent publications are dedicated to the students by the students. We hope you consider donating to allow us to continue our mission of a connected and well-informed student body.