Fighting with Fetsch
Math teacher Mrs. Fetsch diagnosed with leukemia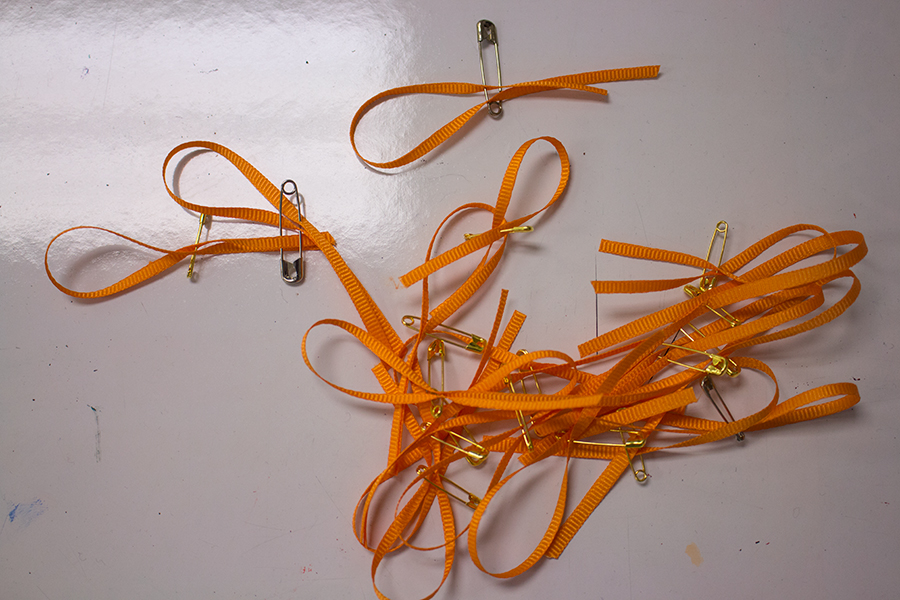 Having been bothered by a persistent pain she believed was nothing, as she, coach of the Sensations dance team, was a healthy person living a healthy lifestyle, Mrs. Roxanne Fetsch, accompanied by her husband, checked into the ER the night of Aug 8, the night before school started, after experiencing excruciating pain. This ER trip resulted in blood tests informing the math teacher that she had low platelets, leading to a diagnosis of a rare form of leukemia called ALL.
"[Mrs. Fetsch] has been diagnosed with Acute Lymphoblastic Leukemia (A.L.L.), a rare form of blood cancer, normally seen in infants from age 2 years – 5 years.  Her doctor shared that there is a 95% success rate when found early, which they have. The cancer has not spread throughout her body and they are eager to start aggressive treatment," Dr. Arnel said in an email sent out to staff members informing them of the situation on Aug. 14. Mrs. Fetsch has begun chemotherapy which she will continue undergoing for four weeks, but her return to teaching and coaching is currently unknown, as she will need to take some time to recover.
"In basic terms, our girl has been diagnosed with a form leukemia called A.L.L. She will be spending about a month in the hospital kicking leukemia's butt, and then resting at home until she is giving the green light to come back to her home at FHC!" Mrs. Christina Young,  a friend and colleague, said,  
An active member of the FHC community and an all-around vibrant person, Mrs. Fetsch's absence has already been noted by staff and students alike, especially to colleagues like Mrs. Young.
"They say if your absence doesn't make a difference, your presence won't either," Mrs. Young said. "Boy, we can sure feel her absence in these halls! Roxy is the reason so many kids come to school. She's a friend, teacher, coach, counselor, and her students number one fan. Students who saw her name on their schedule are impacted because she is one of a kind. She makes people want to be the best version of themselves. Her school spirit, involvement, and overall demeanor is not something that goes unnoticed."
This is especially prominent for Mrs. Young and Mrs. Fetsch's other friends at school who are used to seeing and talking to her on a daily basis.
"I miss my fellow crazy, loud, energetic, friend," Mrs. Young said. "I'm used to walking by her room every day after lunch and getting my mid-day pep session! If she could set up her hospital bed in her classroom, I have no doubt she would try to teach and receive treatment at the same time!"
Mrs. Fetsch's situation is particularly unique in that she was diagnosed the night before school started, meaning her new students have not yet met their teacher, and the Sensations were left coachless for the beginning of the year. Luckily, though, other instructors have stepped up, including her own sister, according to Mrs. Maxwell.
"Anything that Roxanne touched is pretty much affected, meaning her classroom, her dancers, sports teams, coaches, other teachers, pretty much all our staff has interacted with Roxanne," Mrs. Maxwell said. "It's impacted our administration team, our counseling team, just because she's such a lovable person. And it's definitely going to be – it's been hard without her. Her students, I'm not sure if they know the impact it's having on them just yet because some of them didn't even know her, and didn't get to meet her because she didn't get to make the first day of school, but her dancers have two amazing assistant coaches who have been able to step up, Amanda Bon and Stephanie Henry."
The school has already begun rallying in support of Mrs. Fetsch, organizing numerous events and groups to raise awareness as well as funds for their beloved teacher and coach, including taking to social media with the hashtag "FightingWithFetsch" on Twitter and a Facebook page called "We Love Roxanne Fetsch", which posts period updates on Mrs. Fetsch's health and other events to help her.
"You'll see through social media that lots of sports teams or lots of organizations are starting to do things for her," Mrs. Maxwell said. "The football team has orange ribbons on their helmets, the JV softball team has orange bows, the Sensations are selling orange ribbons to raise money for her. I have noticed that pretty much every single aspect of FHC right now has been impacted or is supporting her in some way."
As much as participating in events can help, though, another significant way for students to help out Mrs. Fetsch is to write cards or letters or even send her a Tweet to help keep her spirits up through this ordeal. Any letters to be delivered to her can be left with Mrs. Mair or Mrs. Syron.
"Roxy needs reasons to smile, laugh, and forget about this terrible hand she was dealt!" Mrs. Young said. "Write her a card with a funny note. Make funny memes and send them to her on Twitter. Let her know how much she has impacted you, and inspire her in return! She wouldn't want people to sit around and cry. Instead, she would want people to support everyone with Leukemia/cancer. Join us for the walk in September. Promote awareness. Be kind to each other. Listen to Justin Timberlake every day until she returns!"
Leave a Comment
Your donation will support the student journalists of Francis Howell Central High School. Your contribution will allow us to purchase equipment and cover our annual website hosting costs. FHCToday.com and our subsequent publications are dedicated to the students by the students. We hope you consider donating to allow us to continue our mission of a connected and well-informed student body.