Fall Festivities
Fall activities you must crank in your calendar before the season ends.
Pumpkin Patch
Remember being a young child and going to pumpkin patches with your family every year? You would walk around, climbing through towers of hay and running through corn mazes. Well, the fun isn't just for little kids anymore thanks to places like Daniel's Farm and Greenhouses and Thies Farm. Pumpkin patches like these offer a large variety of activities to fit with the fall season. Some even offer activities aimed specifically at teens such as zombie hayrides and pumpkin chucking. Not only that, often times along with the basic festivities there is a variety of fun fall treats to enjoy like various pies and apple cider. But before you leave the pumpkin patch, make sure to go find the perfect pumpkin and do a quick photoshoot to show it off on social media. Freshman Molly McGraw explains her recent experience at a pumpkin patch.
"Pumpkin patches are so much fun. I went to one over fall break…," McGraw said. "You could go out and pick whatever pumpkin you wanted and there was a whole bunch of little kids there… It was adorable watching them pick [their pumpkins]… it was a really nice place."
Hiking           
One aspect of fall most people seem to find the most fascinating is the beauty of nature. There is nothing like walking and seeing the brightly colored leaves and breathing that cool, crisp air that only fall seems to have. One of the best ways to enjoy nature's beauty at this time is to take a trip over to a local park and go hiking. Hiking is not only  a source of exercise with many health benefits, but it also provides time to hang out with friends and family. With many hiking trails located around St. Louis such as the Spencer Walking Trail in St. Peters, the Katy Trail in St. Charles and the Pine-Trail at Busch Wildlife in St. Charles, the hardest part is choosing which one to go to first. Freshman Analiesa Hollowood has been hiking with her girl scout troop for years and finds it fun for a multitude of reasons.
"I like the fresh air of it," Hollowood stated. "And then… when you hike for a really long time and your lungs start to burn… it really just makes you grateful for your life."
Go to a Fall Festival
Though some people may only associate fall with orange leaves and pumpkins, there is another aspect of fall that many people seem to forget: being together. There is no better way to get together with others and be surrounded by people than to go to one of the annual fall festivals in the St. Louis area. Go learn more about the culture of Germany at Oktoberfest located in either St. Louis or Hermann. Or go indulge yourself with apple butter at the Apple Butter Festival in Kimmswick. Just as well, no matter what festival you go to, you are surrounded by people who also share similar interests.    
Bake a Pie 
The smell of warm, fresh pie baking often brings about memories of being with the ones you love at celebrations such as Thanksgiving. Even so, pie doesn't have to be just for the holidays. There are many different types of fall-associated pies like apple and pumpkin. You can even ask around to see if there's a family recipe you could try. So, roll up your sleeves and start baking.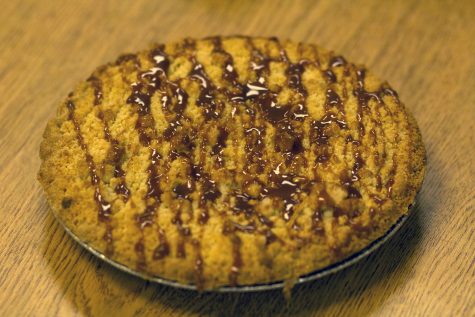 Learn to Knit and Crochet
Knitting and crocheting doesn't have to be an activity associated with your grandma. In fact, these crafty activities can allow you to create cozy, unique accessories such as hats and scarves to keep you warm during these colder months. Besides, there is a variety of colors of yarn so you are almost guaranteed to find something to fit your style. Knitting and crocheting are also good activities when it's too cold to go outside and all you want to do is curl up in a corner by yourself, as they allow for an activity that doesn't involve just scrolling through your phone. Though she does not knit herself, Freshman Magi Temelkova feels that through comfort, knitted goods enhance the fall experience.
"A lot of people in my family do knitting and I enjoy knitted stuff," Temelkova said. "I think they're nice and they feel cozy and cute and I think that's how they relate to fall. Because fall, in general, is about feeling at home and feeling cozy."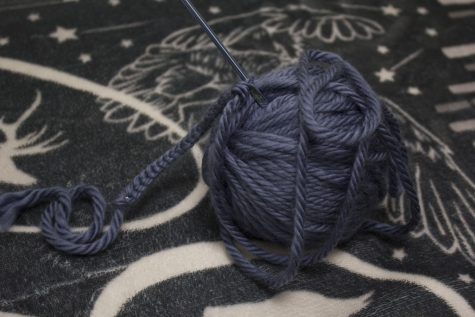 Go Through Old Winter Clothes and Buying New Pieces (and Donate Old Ones)
During fall, the weather begins to change, leaving the warm sanctuary of summer behind. For many people, this is the opportunity to reinvent or improve their style with some new pieces that reflect the new climate. Adding more dark and warm tones, knitwear and jeans to your wardrobe will definitely bring in those fall-vibes. However, now is also the time to consider going through your current clothing as well. You may find some items you didn't even remember you had as well as finding items to donate to a thrift store or resale shop. Donating or selling your clothing not only helps the environment but can allow you to earn more money that can be spent on new clothes. Junior Abigail Crowder thrifts for most of her clothes and with each trip she is able to find new gems.
"I get all my sweaters from the men's department at Goodwill," Crowder stated. "I get a lot of compliments on [them] the next day."
Try a Bunch of Pumpkin Spice Flavored Foods and Drinks
Join in on one of America's most popular fall crazes: pumpkin spice. Since Starbucks first released their pumpkin spice latte in 2003, the flavor has become a staple of the fall season for many people. There's coffee, coffee creamer and soda, toaster pastries, cookies and even peanut butter. Almost any edible item you can think of has had this autumn-related flavor added to their repertoire. Try getting together with a couple of friends to find a few of these fall-flavored treats and taste-testing them to see which one tastes the most like the infamous Starbucks drink.
Leave a Comment
Your donation will support the student journalists of Francis Howell Central High School. Your contribution will allow us to purchase equipment and cover our annual website hosting costs. FHCToday.com and our subsequent publications are dedicated to the students by the students. We hope you consider donating to allow us to continue our mission of a connected and well-informed student body.