Changes come to Normandy transfer policies
Normandy students are able to return to FHC, but under different conditions than last year
More stories from Cadence Bippen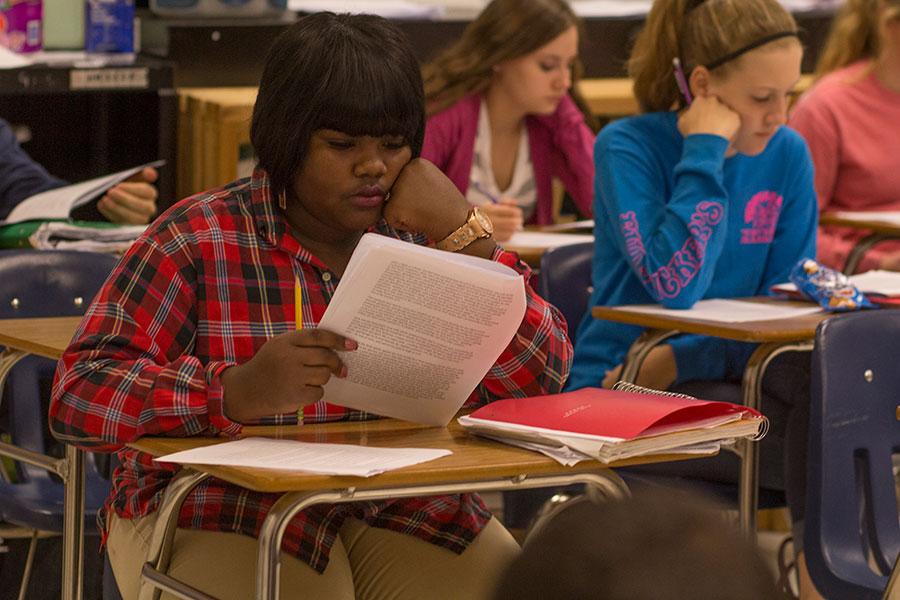 Last year there was plenty of speculation over the transfer of Normandy students to the Francis Howell School District; due to Normandy's unaccredited status, students could make the decision to attend another district in the area as long as they provide transportation — other than the Francis Howell School District, for which transportation was provided by Normandy. FHC received approximately 50 transfer students in the 2013-2014 school year.
This year, the regulations have changed, according to Associate Principal Lucas Lammers. The former Normandy School District has been dissolved and is now managed by the state and known as the Normandy Schools Collaborative (NSC).
Since it is an all-new district, it is neither categorized as accredited or unaccredited. FHSD has a policy, and has had this policy since the start, that it will not take tuition-paying transfer students unless required by law. NSC is no longer unaccredited, so FHSD took that to mean that they are no longer allowed to attend other schools.
The fact of the matter is, although NSC is not technically unaccredited, it isn't accredited either, so Normandy families have held that students should still get to attend other accredited districts. Families of students who filled out intent-to-transfer forms by this past February, before the change in district management, have been filing lawsuits so they can still transfer. Literally every family that has done this has won, but there has been no law or policy change, to make the transfer available to all.
Due to the exclusivity, transfer students have been trickling in to FHC over the past three months by cab because there aren't enough to fill a bus yet.
An issue that arises for many of these transfers and their teachers is getting them caught up in class, depending on what point in the year they switched to FHC. For many cases, it is quite simple.
"It would just be like if they moved here from Florida; their grades would transfer with them. So if a kid was taking U.S. History at Normandy and had an 80 percent, they would start with an 80 percent in U.S. History here and keep right on going," Mr. Lammers said.
Junior Adrianne Jeffries transferred a few weeks ago, and according to Science teacher Kimberly Maxwell, it has been a smooth transition.
"Adrianne's transfer came at a good time because we had just finished a unit," Maxwell said, "so we were able to start on a blank slate."
The issue was that Maxwell was not aware where in the curriculum Jeffries' old district was. Each district goes at its own pace, so it is possible that a unit could have been partially lost in the transfer.
"I think that this is a transition that would come with any transfer student, regardless of where they are coming from," Maxwell said.
Along with getting caught up to the rest of the class in information, any new student has to deal with getting caught up on relationships, as well. English teacher Kim Okai believes Jeffries is doing this exceptionally.
"I'm sure it is not easy to enter a class that is already in progress while trying to make friends, but [Adrianne's] outgoing nature has helped her to find friends in class already," said Okai.
It becomes difficult when considering the cases where the student had not yet started school, as advised by attorneys, according to Mr. Lammers. FHSD lets them jump right in where the class is at, but teachers must decide if the student will have to make up the work from earlier on, whether they aren't accountable for it, etc.
Another larger-scale issue is that of depleting resources for the new Normandy district. Each district calculates a tuition rate, and since Normandy's is lower than FHSD's, it is costing them more to send students here. The expenses of transporting to and enrolling students to other districts cause the actual Normandy schools to pay quite the toll.
"They still have buildings to run, classes to teach, teachers to hire, custodians, and everything–they have less money to run their district. If it [the transfer rate] continues like it did last year, they will run out of money and be bankrupt, and no longer exist as a district— they'll be done," Mr. Lammers said.
Although that is a fear of years to come, there is a fear from the past that has been resolved.
"The community was very concerned last year, when [the transfer situation] was first announced. And then the kids came in, and it was business as usual," said Lammers. "I didn't notice any difference last year, don't really notice one this year. You know, kids are kids."
View Comments (1)
Your donation will support the student journalists of Francis Howell Central High School. Your contribution will allow us to purchase equipment and cover our annual website hosting costs. FHCToday.com and our subsequent publications are dedicated to the students by the students. We hope you consider donating to allow us to continue our mission of a connected and well-informed student body.