In a Rush
With interests ranging from music to sports, Alli Rush keeps busy
The bell above chimes as junior Alli Rush opens the door to Guitar Center, with her guitar in hand. She and her band set up on the small stage as parents begin to trickle in for their kid's recital. After a quick soundcheck, they are ready to play their opening song, "Californication" by Red Hot Chilli Peppers. 
Rush inherited her love of music from her parents, especially when her dad would play his rock albums for her. He also got her into jazz, and is one of her main inspirations for why she wanted to learn how to play guitar. On top of being her inspiration for pursuing music, her parents also support her in all of her endeavors. 
"It's really nice that they support me in doing what I want to do, and usually help fund me with a lot of stuff," Rush said. "My dad especially encourages the rock music and is all about it. He shows up to every performance I do." 
Before Rush started learning guitar, her mom began teaching her the piano as they had one at home. Since she didn't know how to play guitar at the time, she would learn how to play guitar parts of her favorite songs on piano. 
"It was in fourth grade, my mom wanted me to learn how to play an instrument, and we have a piano in our living room. So she's like, we're going to do piano, and she also played piano," Rush said. "I can still kind of play piano. I learned [to play] Guns and Roses because I couldn't play it on guitar." 
The next instrument Rush learned was the alto saxophone for beginning band in 6th grade, which she still plays in the Symphonic band. She takes home her sax almost everyday so she can practice, on top of having band class daily. She also has aspirations of joining one of the jazz bands, but has not had the chance due to schedule conflicts. 
However, the instrument Rush is most passionate about is the guitar. On top of practicing it whenever possible, she also plays it in the mornings in the band room, as well as occasionally bringing it to class. She began playing the guitar two years ago, after years of wanting to learn how to play it. The opportunity arose when she got her first guitar for Christmas. Her parents then signed her up for lessons at Guitar Center, where her talent started to shine through.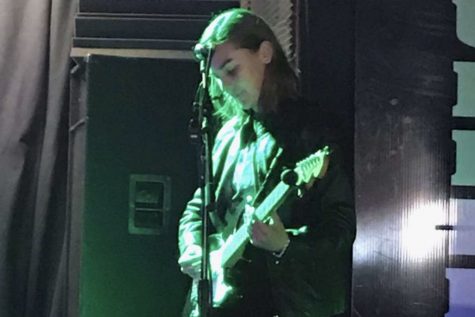 Every few months, Guitar Center hosts a recital showcasing the students there, and before performing for the first time, Rush needed an accompanist. Luckily, she knew junior Emma Smallen plays the drums, and asked her to play with her. Although, after a couple of gigs, Smallen ended up quitting due to their differing tastes in genres. However, the two remained friends, and Rush found other band members. 
"It was super cool. She took lessons at Guitar Center, and she was like, hey I need a drummer for a band I'm doing for a recital, so I said I could do that," Smallen said. "I [ended up] wanting to play in a different genre than they were playing, so I was like, if you guys need me I can play, but I want to go off and do my own thing."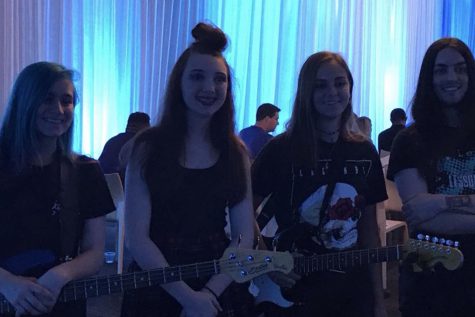 Though she no longer takes lessons at Guitar Center, Rush and her band, currently named Jinx, still gets invited back to be the opening performance at the recitals.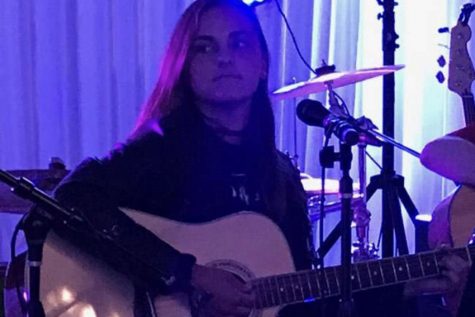 On September 20, she brought her guitar to school to get extra credit on her dicho, a weekly speaking test to show what phrases she learned in Spanish that week. After playing the song to her Spanish class, she went to her next class, AP Language and Composition, and showed Smallen the chords to the song. Soon the class grew quiet, and Rush broke out into song. 
"I learned [the Dicho song] the night before on the guitar the night before, and then I brought it into Spanish and played it. My next class [was] English, and Emma [Smallen] asked me what the chords were," Rush said. "I was showing her the chords when everybody [got quiet] and they had their phones out." 
Despite her musical talents, Rush diversifies her hobbies, as she also draws and plays sports. During the spring, she plays on the girls soccer team. During the Fall, she runs on the Cross Country team.
Rush began playing soccer while she was in second grade for her church's team in the CYC league, and ended up enjoying the sport. Over the years, she switched from CYC to a team for Norco, then to Missouri Rush after that team broke up. However, that team only lasted a year, due to a change in the league basing age groups on the year players were born rather than their grade level. Because of the division of her team, she switched leagues once more to play for AFA, where she has been playing for three years. Rush currently plays for the school's girls soccer team during the spring season. 
"In second grade, I was put into the CYC church league, the Saint Jane Flames, then it morphed into the Cheetahs. Then we went to Norco, and then to Rush, and now I'm at AFA. I also play for the [school] team," Rush said. 
Cross Country is another thing her dad introduced her to in order to stay in shape. At first, she didn't enjoy the running portion of it, but stayed because she liked the community of it. Now, she's one of the top ten runners for FHC's cross country team. 
"I wasn't really into running before [joining cross country], but my dad pushed it as a way to stay in shape, and it turned into 'I really like this' and the people are amazing here, so I keep coming back," Rush said. "I'm in seventh [place] now, I as in tenth." 
Junior Lily Chung is one of Rush's teammates on both the soccer team and cross country. They both started cross country during their freshman year, and have been striving for the top ever since. Chung acknowledges Rush's improvements, and admires her drive to get better at the things she's passionate about. 
"[Alli] has really improved a lot, and she's really driven so she's gotten a lot better and faster," Chung said. "I think she has a whole lot of different talents, like with art and she's athletic, so just all around talented." 
Some other hobbies Rush has are archery, water skiing, wakeboarding, and drawing. She got into archery after being introduced to it at a friend's birthday party and partakes in water sports at her grandparents' lake house. On top of all of her hobbies and activities, she also takes multiple classes for college credit. Despite her busy schedule, she still takes time to hang out with her friends, and uses her hobbies as a way to destress. 
"It definitely takes up a lot of my time, but it's also a very good way to relax and forget about problems for a little bit," Rush said. "Honestly, just focus your energy on something you enjoy doing."
Leave a Comment
Your donation will support the student journalists of Francis Howell Central High School. Your contribution will allow us to purchase equipment and cover our annual website hosting costs. FHCToday.com and our subsequent publications are dedicated to the students by the students. We hope you consider donating to allow us to continue our mission of a connected and well-informed student body.