Something Wicked This Way Comes
The cursed legend of Macbeth comes to life in Mrs. Shockley's AP Literature class
The play that shall not be named. The M-word. Macbeth. When William Shakespeare first wrote his infamous play, one could assume he didn't foresee it becoming a token of disaster and misfortune should its name be uttered in a theater, nor would he have foreseen it becoming a most beloved unit and performance in AP Literature teacher Patricia Shockley's classroom.
"We have always read Macbeth aloud in this class, but each year the performances seem to get better," Mrs. Shockley said. "I think some of the reason is that I encourage this more, but we also have had some talented students in AP Lit."
As students transform into actors for an hour of their day, many find it quite easy to perform with mirth. Shakespeare is always better enjoyed with a jovial spirit in tow. Senior Luke Morrison had the privilege of playing the title role in his hour; he contends that it was an enjoyable experience for the class.
"I think we actually had a lot of fun as a class this year," Morrison said. "Originally, it just started with a couple people trying to spice it up a bit, but by the end, everyone was doing accents and acting parts of the play out."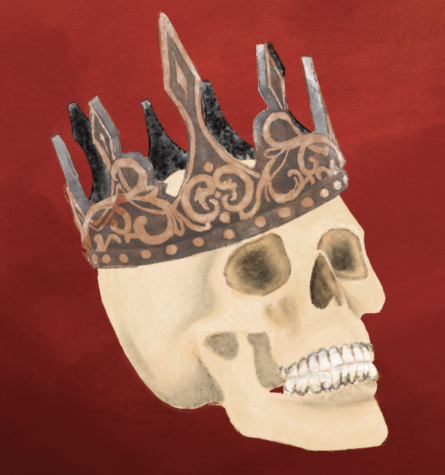 Playing the Lady to Morrison's Macbeth, junior Zoe Michals believes the interactive lesson was not only fun but beneficial.
"We all had fun with it, and I think that it helped us to understand the Shakespearean verbiage better too," Michals said.
Although Mrs. Shockley's AP Literature students don't perform in a theater, there is no immunity to the supposed cursedness of the play. The curse is said to have originated from witchcraft and a vendetta against Shakespeare.
"The play is considered to be cursed because Shakespeare used the real witch incantations like 'Double bubble toil and trouble' in it," Michals said. "Witches didn't like that, so they cursed the play."
It's no coincidence that strange occurrences in Mrs. Shockley's room happen to coincide with the performance of this play.
"We had some questionable things happen in the classroom like flickering lights, flipped signs, and weirdly stacked books," Michals said.
And the oddities don't end there.
"A bunch of high school students more or less enjoyed acting out a Shakespeare play as a class," Morrison said.
Skeptic or not, the evidence is damning.
While Mrs. Shockley points the blame to her faulty room, there's no place for sensibility in cursed plays.
"One time the ceiling tiles started jumping up and down," Mrs. Shockley said. "All of the windows were open, so my logical side knew it was the open section above the room juxtaposed with the pressure of the wind in the room. It was an extremely windy day."
In the torturous units of high school literature classes that consist of Shakespeare, it's important to find creative ways to engage students in the content without drowning them in iambic pentameter. Mrs. Shockley has been able to do just that.
"I think the majority of people enjoyed it and started to have a better mindset whenever we started to read," Morrison said. "It gave a fun break from all the normal work and essays of an AP class."
The immersion into Shakespeare's world is never taken too seriously in Mrs. Shockley's class.
"Myself and many other people who helped act out the play just had fun with it, so it made reading Shakespeare bearable," Michals said.
Mrs. Shockley wants this to be less of an assignment and more of an experience.
"The fact that we read aloud adds to the enjoyment of [the lesson]," Mrs. Shockley said. "Plays are supposed to be watched; this is the closest we can get to that."
As he's taken his final bow as Macbeth, Morrison bestows upon those taking Mrs. Shockley's class in the future some parting wisdom.
"Don't let it drag you down," Morrison said.
"Plays in English can either be really good or really bad and it all just depends on whether you're going to sit there and complain about it, or make the best of it and just try to have some fun while you're reading."
Retiring her role as Lady Macbeth, Michals also departs with some final words.
"Don't take any chances with witches, weird things will happen," Michals said. "But also have fun with your reenactment, it will make it engaging and develop the meaning of the work as a whole much easier and clearer."
Leave a Comment
Your donation will support the student journalists of Francis Howell Central High School. Your contribution will allow us to purchase equipment and cover our annual website hosting costs. FHCToday.com and our subsequent publications are dedicated to the students by the students. We hope you consider donating to allow us to continue our mission of a connected and well-informed student body.