"Tragical Romance and All"
An in-depth review of the latest season of CBC/Netflix's most heartwarming show, "Anne With An E".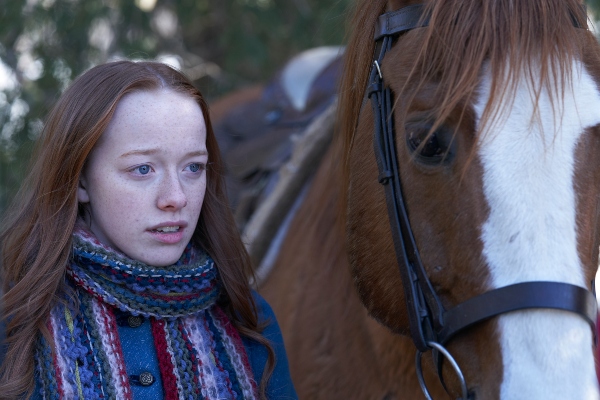 January 3, 2020: I woke up to the alarm I set for myself blaring "Ahead By A Century" by The Tragically Hip. At first I wanted to go back to sleep, as usual when I am forced awake, but then I remembered something. Today was the day I had been looking forward to for months, "Anne With An E" season 3 was finally being released on Netflix! I could not contain my joy (as I had been looking forward to this day for almost a year), so I sprung out of bed to run to my living room and get the television set up. Once I had Netflix pulled up, I filled up my Gilbert Blythe mug with tea, grabbed my blanket, and did what I had longed to do for months, I pressed play. Seeing the characters I have seen grace my television screen for the past two years once again was exhilarating. I felt as though they were familiar friends I have grown with, laughed with, and cried with. The moment that the glorious scenery of Green Gables appeared on screen with its red dirt roads, gorgeous greenery, and warm atmosphere, I was home. 
The series, "Anne With An E", itself is a more modern and realistic take on the classic Anne of Green Gables novels written by Canadian author Lucy Maud Montgomery. The story follows the adventures of a young redheaded orphan named Anne after she is accidentally adopted by the Cuthbert siblings in the fictional town of Avonlea, PEI. The show was created by writer Moira Walley-Beckett and stars Irish-Canadian actress Amybeth McNulty as Anne Shirley-Cuthbert and acclaimed British actress Geraldine James and award-winning Canadian actor R. H. Thomson as Marilla and Matthew Cuthbert respectively. The series has been nominated for a total of 32 awards and has won 16 of those 32, including several Canadian Screen Awards (Canada's equivalent of an Emmy). Season 3 originally aired in Canada on CBC and CBC Gem starting Sept. 20, 2019 and now is available for international audiences to view on Netflix as they please. 
One of the first details I noticed after watching the show for the first time is the show's stunning cinematography. From scenic scenes taken around various filming locations in Canada (including PEI) to the indoor scenes filmed on sets decorated so that they make the audience feel as though they are a part of the character's world, this show has it all. One of the most praised elements of the cinematography, though, is the show's use of lighting. In season three, when Anne goes back to the orphanage she lived at before she went to Green Gables for documentation on her parents the lighting is very dark and gray, filling the viewer with a sense of despair and dread. Whenever she is at Green Gables, however, the lighting is always warm and bright, provoking a sense of joy and relaxation.  
That is one of the many elements this show is known for, but the most prominent of all is its storytelling. The series has received both praise and criticism for its inclusion of topics that are still prominent today in the world that Lucy Maud Montgomery created over one hundred years ago. The show has covered many topics including racism, child marriage, abuse, trauma and LGBTQ+  issues.
However, the most prominent topic covered since the show's beginning has been the topic of women's rights and feminism. As the show is set in the late 1800s, there is a major lack of equality in Avonlea at the show's beginning, which through various storylines begins to slowly shift as Anne begins to broaden the town's views.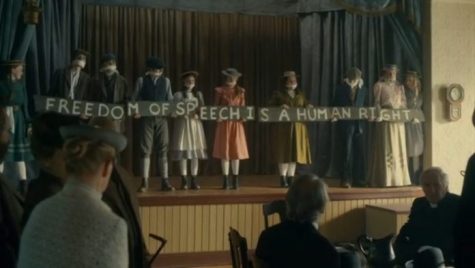 For instance, after her friend, Josie (Miranda McKeon), is violated by the boy she is courting, Anne writes an article for the town's newspaper detailing her belief that women are equal to men from the moment they are born. This, of course, is considered highly scandalous to the small town which prompts a discussion on human/equal rights. These types of storylines are important as they are written about topics women have faced everyday for centuries, but they are also written by women as well. The show has an almost entirely female creative team that writes and directs the episodes, which is not something that is commonly seen in media today. This allows the show to open up to discussions on what it means to be a woman and empower the many young (and old) females watching. 
Nothing has been more powerful or inspiring to me than seeing a young female character such as Ruby Gillis (Kyla Matthews) exclaim with tears in her eyes, "How I love being a woman!" while being surrounded by her closest female friends.
However, this show also pushes a positive influence for males as well, showing them that it is okay to be sensitive and show emotion. In season three, after the character Sebastian "Bash" LaCroix (Dalmar Abuzeid) loses someone who is very important to him following a deadly infection, he is shown crying multiple times in the arms of others. Just these images alone of a male character expressing grief in such a vulnerable way give a beneficial example to all men watching that expressing emotions is okay, an idea that usually is not expressed in media today. 
The show also allows for the topic of the options of widows in the 1800s to be shown. Alone with his infant daughter Delphine, Bash receives help from his female neighbors so that his home is maintained while he tends the farm. When the neighbors become fed up with this arrangement, they give him the option of remarrying or sending his daughter off to an orphanage. This, of course, stresses him out as he is still in the process of grieving his late wife. This adds into the idea of showing a healthy way for men to grieve and also explains the complexity of being widowed during this time period.
The theme of going against societal expectations in general is also a theme included heavily this season. For the past several seasons, it has been heavily implied that the character Diana Barry (Dalila Bela) would be attending finishing school in France instead of going to college after she finished school in Avonlea. In this recent season, as that thought became closer to becoming her reality, Diana started to second guess whether or not the life she had been held to receive since birth was for her. She has to choose whether she should form her own opinions and live her life the way she wants to or go along with her parent's plans. The idea of living your life to your own plans and going against societal norms is an idea that most of the demographic for the show can relate to and needs to hear told in a way that avoids using toxic ideas such as drugs, violence, and other dangerous ideals. 
The most valuable storyline in season three; however, has to be the inclusion of the show's first indigenous characters. This season we were introduced to Ka'kwet (Kiawenti:io Tarbell), a young girl who is a member of the Mi'kmaq nation, and her family. While the main protagonist Anne struggles all season trying to figure out her identity and ancestry, Ka'kwet struggles with her identity as well, but in a more intense way.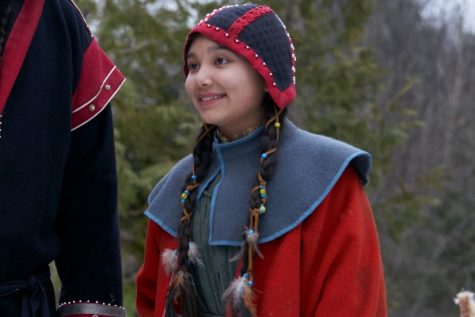 The main objective of Ka'kwet's storyline was to bring light to the residential schools that the Canadian government used to try to "integrate" Native children into society. This was done by stripping the children of their culture including their names, traditional hairstyles, language, religion, and more. The show does not shy away from the brutality the children faced in the schools either. Viewers watch in agony as they see cheerful Ka'kwet abused to the point she escapes, only to be taken back once again. I appreciate the show's writers inclusion of this storyline and the representation it brings to people who are not usually represented by mainstream media. The storyline also introduced many people to the topic of residential schools as many have expressed never knowing of this dark part of Canadian history before watching the show.
The final storyline to bring up has to do with romance, particularly between the Anne and Gilbert (Lucas Jade Zumann). Though in previous seasons there has definitely been a hint of romance surrounding them, this season definitely kicks it up a notch as both (finally) start to become aware of the feelings they have for each other. However, there is a twist. Season three also brings a new character named Winifred Rose (Ashleigh Stewart) to the stage to add a little spice to the situation by setting her eyes on Gilbert as well. Essentially, she is the equivalent of the character Roy Gardner in the original novels, but for Gilbert instead of Anne. The episodes follow a simple "He loves me… He loves me not" pattern (as pointed out by someone on Twitter) with the "love" episodes being wins for Anne and Gilbert and the "love not" being wins for Winnifred and Gilbert. The inclusion of Winnifred into the story allows for extra angst between Anne and Gilbert, but also for both of them to have time to truly realize what matters to them as well. 
In all honesty, this show is one of the most important shows gracing our screens today. By taking various storylines covering topics which are still being fought for today and placing them in a setting with characters which are already beloved by many, it creates a unique experience for its audience by sparking a connection and creating a conversation. Most shows wouldn't dare covering some of the topics "Anne With An E" has due to the fear of being different for the formula mainstream media has created. That's the beauty of "Anne With An E", it shows the world that embracing differences and accepting others is what helps us form connections. Of course, this difference is what led to its downfall. On Nov. 25, 2019, it was announced that season three would be the show's final season, much to the dismay of the cast, crew, and thousands of fans. Hope is not fully lost, though, with a petition for a renewal containing 95k+ signatures and counting, various tags on twitter trending almost constantly for the past two months, various news articles, and celebrity endorsements, who knows what will happen. But for now, at least, in the words of Miss Stacey (Joanna Douglas) "I'm so sad to see you go, yet so happy that I know you".
Thank you "Anne With An E".
Click here to sign the petition to renew "Anne With An E" for a fourth season. Click here to view the trailer for season three.
Special thanks to @lexaciousness, @Vaudree2, @FEMALELOGY, @awaeseason44, and others on Twitter for taking the the time to respond to my post.
Leave a Comment
Your donation will support the student journalists of Francis Howell Central High School. Your contribution will allow us to purchase equipment and cover our annual website hosting costs. FHCToday.com and our subsequent publications are dedicated to the students by the students. We hope you consider donating to allow us to continue our mission of a connected and well-informed student body.