Outreach for love
Emily Hall and Molly Ebert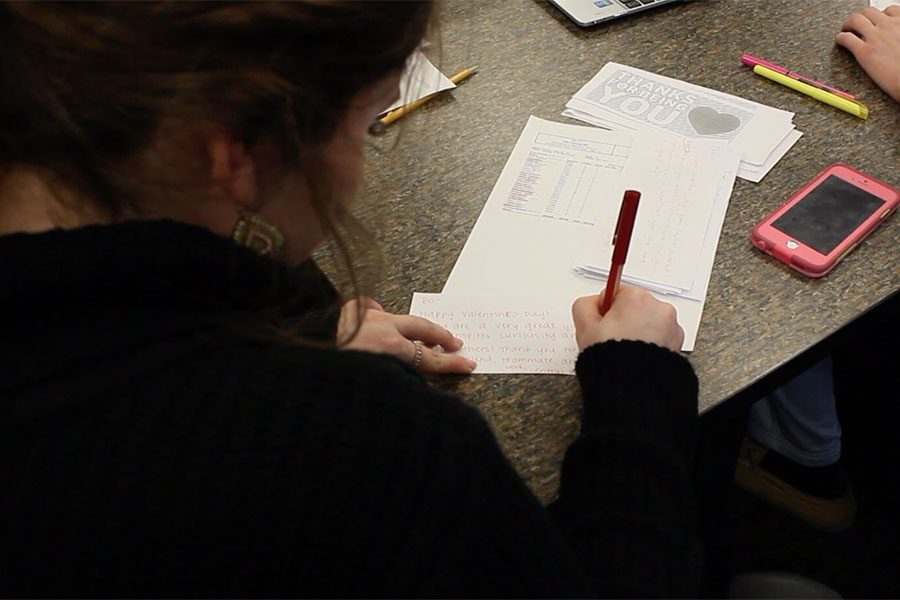 Emma Wolf, Staff photographer
February 21, 2017
Central Outreach is a new club at Francis Howell Central that was started by a former graduate. This Valentine's Day they participated in a We Are Love campaign. With the desire of impacting others in mind, they wrote 2,102 personal letters to each student and faculty member.
Twenty-five people worked diligently for a month before and after school in Mrs. Ashley Mair's room. On the day of the school power outage, they went to Spencer Road Public Library and wrote letters for five hours and had a writing party in Mrs. Mair's room after school one day.
Mrs. Mair is the Central Outreach club sponsor, she was very nervous about this project and worried that they couldn't pull it off. She thought this campaign made a sense of community in the school. The main purpose of Central Outreach is for students who intentionally and passionately desire to bring love, hope and care to make a difference in the community.
"All that mattered was that for a minute people knew that other people thought nice things about them. Anytime you can tell someone else that they matter it makes a huge difference in their life," Mrs. Mair said.
Senior Nicole Webb is an active member and leader of the club, she knew this was going to be such a special event and loved how she got to be a part of something bigger than herself and experience a love like never before.
"I felt a different vibe in the school throughout the day because people knew they made a difference and saw how important that they are and how it impacted others," Webb said.
Reilly Newton is also a senior at Francis Howell Central and an active club member and was looking forward to seeing everyone's reaction and seeing how all of their hard work paid off. Central Outreach got a lot of recognition for this campaign even though all they wanted to do was recognize others for all they do, and let them know they are special and belong at FHC.
"It wasn't about the recognition, it was about impacting people's day," Newton said.
Talia Thambyrajah, a junior, said Central Outreach is the best thing that has happened this school year and it gives her a sense of community and family both inside and outside of school.
"A lot of people at school don't feel like they have a place or feel loved even at home they don't feel that way so even though it was a lot of work it was so worth it to even make one person's day,"  Thambyrajah said.
Junior Grace Heisel an active club member, remembers getting goosebumps from feeling so much excitement and joy walking into school on Valentine's Day knowing that for a couple minutes the school will unite and feel so loved.
"Nowadays in high school, people are really stressed out and sad and we just want everyone to know that they have a purpose and they are loved and welcome in our school. You gotta spread the love," Heisel said.